It's been sort of hinted at that Atomic Junk Shop is a little different from other comics sites; we may have accidentally conveyed the impression that we're a bunch of grumpy old guys (except Spencer), and that we're going to sit around grouching about new fans, new characters, and change in general.
This is the point where I object to that characterization.
Sure, you're going to hear stories about the old days, but that's not to imply or declare that the old days were better. Let me tell you a story, and maybe it will clear up the situation a bit.
When I was a kid, I had a friend named Glen. He was kind of weird, as kids can be. His parents were at least 15 years older than mine. His dad was a WWII veteran while mine served in Korea. "Wild Bill" was what they used to call "a character"; a cranky-but-funny old guy who always had time to teach neighborhood kids something cool. He provided me with old comedy albums, a small bottle of mercury, a deck of cards featuring 1950s pin-up girls, and access to his encyclopedic knowledge of old radio shows, books, and movies, particularly comedy. He taught me how to bind books and repair shoes, among other skills. I spent most afternoons at their house, soaking in pop culture history and creative projects. He introduced me to Allan Sherman, Tom Lehrer, the Chad Mitchell Trio, Victor Borge, and a bunch of other very funny people.
He never complained about "these kids today," He was actually interested in what kids were into, and he'd use it as a springboard to tell us about long-forgotten shows and stories that were reminiscent of the new things. He'd say "that sounds pretty good; have you ever heard of _____?" and then he'd be off, digging up old reel-to-reel tapes, LPs, books or magazines, or just telling us in vivid detail about The Whistler or "Captain Video" or Kay Kyser, making us almost see and hear it.
Now it's our turn to be like Wild Bill.
A while back, the brilliant stick-figure web-comic XKCD did a strip about making fun of people who don't know things. Here it is: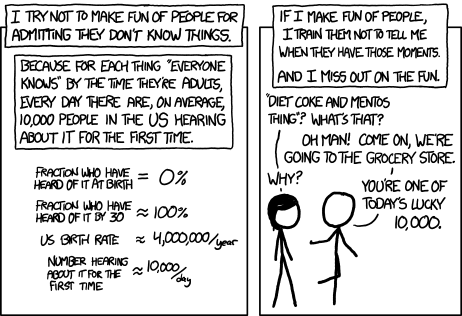 "Saying 'what kind of an idiot doesn't know about the Yellowstone supervolcano' is so much more boring than telling someone about the Yellowstone supervolcano for the first time." – Randall Munroe, XKCD
As we move forward, try to remember this. When you see a post from one of us about some 1960s movie or Silver Age comic, please understand that we're not just wallowing in nostalgia or complaining about how things have changed. We're sharing stuff we like, and if it's something that's new to you, you're one of today's lucky 10,000. If, at the end, you walk away thinking about how great Plop!, Doc Savage, the Roto Rooter Good Time Christmas Band, Ghastly Engels, or Howard Hawks were, we'll have done our job. It's what we're here for.
In return, we hope you'll comment with your own favorite finds and tell us what you're excited about. The key point is, it's possible to say "X is awesome" without adding "Y sucks." Kicking over the other guy's sand castle doesn't make yours any better. It's not a contest.
Which brings me to another point. There are people out there who think every conversation has to be an argument and every discussion has to have a winner. We say nope to that. We've been around long enough to know better. Some of us have been moderators at message forums, and we know all the different species of troll. We know when to engage and when to just hit the delete button. If you want to discuss the topics we bring up, you're welcome. We're excited by the prospect of intelligent discussion of our favorite comics, movies, TV shows, cartoons, music, comedians, toys and whatever else floats your boat. If you want to have a fight about it, we don't have to attend every fight we're invited to. If you want to be a frothing-at-the-mouth all-caps-typing abuse-hurler, well, that's what the comment section at YouTube is for. We hope to have standards a bit higher than that, and we hope you do too. We're big fans of people sharing their passions and promoting the things they're interested in, unless what they're interested in is starting a fight with strangers on the internet.
All of which is a long-winded way of saying welcome to the Atomic Junk Shop. I hope you find some things to enjoy.